Dankbar und stolz zugleich bin ich auf meine Aufnahme in den elitären Kreis des CFS Collectors Club wo ich meine Sammelleidenschaft, aber auch meine Liebe zu meinem Verein Austria Salzburg würdig präsentieren darf.
Das gesamte Interview (in Englisch) findet Ihr hier und natürlich auch hier im Anschluss.
My Football Shirt Collection: Austria Salzburg
Michael Niederer has a passion for football shirts and Austria Salzburg. We asked him about his vast football jersey collection and entered him in the #cfscollectorsclub

How many shirts do you have in your collection?
I have over 450 shirts in my collection. I'd say around 80% are shirts from my favourite team Austria Salzburg, the other shirts are ones from players who played for Austria Salzburg in their career. I do have shirts from Alex Manninger (Arsenal, Juventus, Augsburg), Paul Scharner (Brann, Wigan Athletic, West Brom), Heimo Pfeifenberger (Werder Bremen), just to name a few.

Why Austria Salzburg shirts?
I live in Wilhelmsburg, a small town close to Vienna. I travel to Austria Salzburg – 250 km there and back to every home match. It would definitely make more sense to be a fan of Austria Vienna, Rapid Vienna or SKN St. Pölten, but Austria Salzburg is simply the best club in the world!
When I was a boy I always wanted an original match worn shirt from a player. After I got my first one, it became like an addiction. Today it makes me very proud, to have a lot of contacts and friendships with current and former players and staff members.
I also want to note, that I am a supporter of Austria Salzburg and not Red Bull Salzburg, which are two different clubs. Austria Salzburg was founded in 1933, Red Bull Salzburg in 2005. Austria Salzburg is currently playing in the 4th Austrian Football league.
What was your first shirt and when did you get it?
My first fan shirt was a goalkeeper shirt of my favourite player, Otto Konrad, was a Christmas present from my parents.
I got my first match worn shirt from an employee of Austria Salzburg. I think it was in 1997. It is a shirt previously worn by Gernot Plassnegger in the season of 1996/97. In this season, Austria Salzburg became champions of the Austrian Football League for the third time.
What is your favourite shirt. Why is it so special?
All of my shirts are special because every single shirt tells its own story, but I want to talk to you about 3 special shirts in my collection.
The first of my favourite shirts is the one worn by Wolfgang Feiersinger. He is a legend of Austria Salzburg but moved to Dortmund in 1996. He wore this specific shirt in his first season at the club, 1996/97, in the Champions League semi-final against Manchester United. Borussia Dortmund won the Champions League that year. I got the shirt from a former journalist, who is also an Austria Salzburg supporter.
Another of my favourite shirts is one from Thomas Hässler. He wore the shirt in a UEFA Cup match for Austria Salzburg against Udinese Calcio in 2003. Austria Salzburg won the game 2-1 in the second leg (first game was 0-1) we went on to the next level of the UEFA Cup. It's even more special due to the fact Thomas Hässler scored a goal in this game.
Every shirt of an international game is very important to me, for example the shirt of Leo Lainer. He wore
the shirt I own in the UEFA Cup game against Sporting Lissabon 1993 and scored the important 1:0! The
first game, Sporting Lissabon won 2:0 – the second game, Austria Salzburg won after extra time 3:0 – it was
the beginning of a very successful period, which ended in the UEFA Cup final 1994 against Inter Milano –
Inter won the final (in two games !!!), but it was still a great time.
What is your rarest shirt?
My rarest items are 2 match worn shirts from the early 1980's and a complete tracksuit from the 1950´s, worn by the long standing youth coach Hans Eckl. I got the tracksuit a year before he died. He was a great person and a great "Austrianer"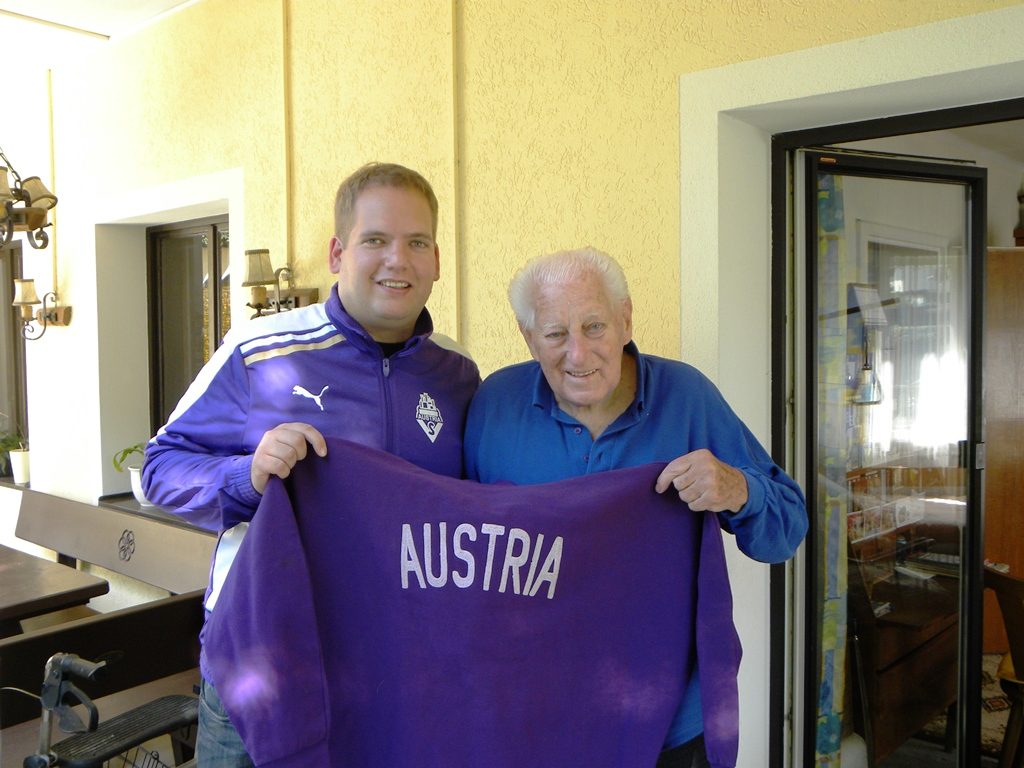 What is the shirt you would like most in your collection but don´t have yet?
Possessing every Austria Salzburg shirt there ever was would be amazing, but the shirts from the time before 1980 are very special, a shirt from 1933 is the dream. It is impossible to get shirts from that time. I would be over the moon to find one of these someday!
Genereally I am on the look out for every Austria Salzburg shirt I haven't already got in my collection. I am also looking for shirts from players who played for Austria Salzburg during their career. At the moment I am specifically looking for shirts from Alexander Manninger, Paul Scharner and female football player, Laura Feiersinger (daughter of former Austria Salzburg player, Wolfgang Feiersinger)
Visit @ CFS in January  2017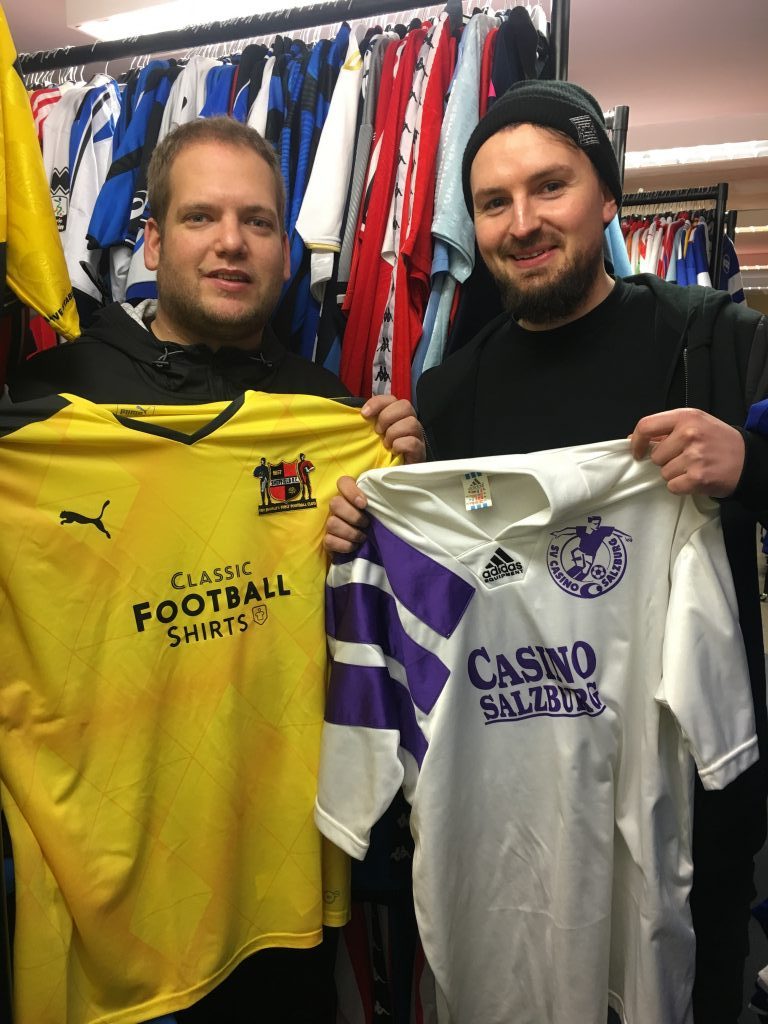 Thanks Classic Football Shirts!
by Michael Niederer
View all our Salzburg shirts here
You can find Michael's full collection here: